08
Jul
INDECT Collaborative Projet : European Seventh Framework Programme"
Document de 45 pages du consortium INDECT développant l'architecture du programme INDECT. Document original en anglais. "European Seventh framework Programme - FTP - 21 8086 - Collaborative Project"
Document public en date du 31/10/2010
Information à faire circuler.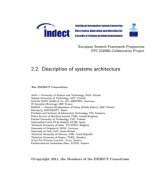 AAA - InDECT Deliverable D2.2 Revised Version
AGH - University of Science and Technology, AGH, Poland Gdansk University of Technology, GUT, Poland InnoTec DATA GmbH & Co. KG, INNOTEC, Germany IP Grenoble (Ensimag), INP, France MSWiA - General ...
http://www.scribd.com/doc/99501163/AAA-InDECT-Deliverable-D2-2-Revised-Version
Un document INDECT à diffuser - A very interesting document to file